Josh Groban recently posted an update on his life and the upcoming album and next tour on the message boards at
www.joshgroban.com
and on the message boards on FOJG. Below is the direct link to the Update thread on
www.joshgroban.com
Click here to view the MSN Chat transcript.
Don't Let Me Go It Along: Wristbands
Josh Groban wins an Award!
Josh Groban holds up his award for Favorite Male Vocalist at the American Society of Young Musicians Benefit Concert & Awards Show, Thursday, June 9, 2005, in West Hollywood, Calif.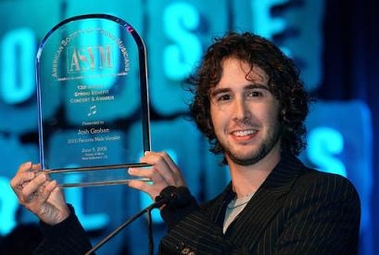 Josh Groban on American Dad (FOX) June 19th
Here is the information about the episode.
About: American Dad: (DAD-107) "Deacon Stan Jesus Man"
When Stan hears his rival Chris White wants to become the new deacon of their church, Stan decides he wants the position as well. Unfortunately for his family, Stan's competitive nature gets the best of him as he tries to win the deacon race. Meanwhile, Steve takes a class at the church with Betsy, the Whites' daughter, who's a Gold Medal gymnast. Steve does back flips for her and their romance helps bring Stan to his senses.

Guest Voice Cast: Mike Barker as Chuck and Terry; Martin Mull as Father Donovan; Molly Shannon as Kristy; Marley Shelton as Betsy; Dennis Predovic as Bela Karolyi; Josh Groban as Whiny Parishioner. (06/19/2005)
"Believe" Nominated
Josh Groban's song "Beleive", from the Polar Express is nominated for an Academy Award for Best Original Song in a Motion Picture. The Awards show was on Feburary 27th, 2005.
Josh Groban on Oprah
On 10-25-04 there will be an hour long show about the movie The Polar Express. Josh will be on the show to sing his song "Believe" from movie and the soundtrack. The soundtrack will be released Nov. 2nd and the movie will be released Nov. 10th.